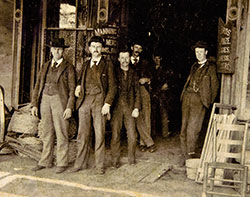 Manning Properties is a full-service brokerage house, with over 200 years of collective experience in purchases, sales, leasing and renting of commercial and residential properties and appraisals.
History of Integrity
At Manning Properties we have a simple policy: when we say we'll do something, we do it. Our respect for those we work with shows in the quality care and personal service we give them. Our track record of integrity shows in our long-standing relationships with clients, local vendors and with city and county government officials. We know Cobb County and it knows and trusts us.
Vision for the Future
When Judy and Aymar started Manning Properties in 1972, their goal was to create a real estate business that provided great customer service to its clients, while encouraging growth and revitalization in Cobb County. They wanted to share the business and these achievements with their children, Elizabeth and Hank. Today, that dream continues to come true, with Elizabeth as General Manager of Manning Properties and Hank the head of his own appraisal business, Manning Appraisal Services—each one continuing their parents' hopes for the community the family has been in for generations.
Commitment to Community
Manning Properties' commitment to the community shows in the investment we've made with our resources and effort to revitalize business in key areas of Cobb County. We do our best to help businesses meet their goals by finding the right property for their needs. By getting a good fit between business owners and their space/location, we increase commerce in the area and help build the economic development of the communities we serve.
Investment Sense
Manning Properties is committed to the quality of our available properties and our ability to provide sound investments for our clients. Our criteria for recommending a property is not just about purchase price, though; a sound investment also involves all the conditions that accompany a sale. Through our careful screening process, we deliver transactions that allow both parties to leave the closing table satisfied.