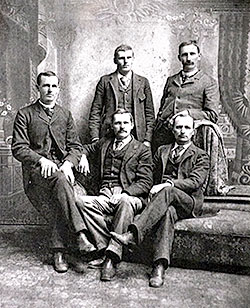 Manning Properties is a family-owned and -operated real estate brokerage firm with over 40 years' experience in Cobb County and greater Georgia. It's not the first Manning business in the area, however. The Mannings have a long history of successful family businesses in Georgia, an investment they've been making in the area for 150 years.
The Manning name is an old and familiar one to many people in Cobb County. Their roots to the area go back to before the Civil War, when Thomas Manning headed to Georgia from South Carolina in 1858 and purchased farmland on what is now Whitlock Avenue and Manning Road. Brothers John and Charles Manning enlisted and fought for Georgia during the war. When the war was over, the remaining brothers, John, Bob, Lawrence and Henry Simpson Manning, opened a hardware store on Marietta Square, and bachelor brothers Bob and Lawrence built a home on the Whitlock Avenue property, baking the bricks themselves.
The family instinct to build its own businesses carried into the next generation, when two of Henry Simpson's sons, Henry Aymar Manning and Tom Manning, joined forces and went into banking and accounting together in the 1920s. Henry Aymar's son, Aymar Manning, is the founder of Manning Properties, with his wife Judy.
Aymar grew up in Marietta, in the Whitlock Ave. house his ancestors built just after the Civil War. He was stationed in Mildenhall, England, before being assigned as Staff Sgt. at Dobbins Air Force Base. He was proud to serve his country in the Air Force Reserve during the Vietnam War.
Aymar got his start in property management working for O.C. Hubert of Hubert Realty, the founder of the Board of Realtors of Cobb County. Aymar would later go on to serve as Secretary and President of the Board.
Judy, a Cobb County school teacher when she and Aymar married, became an agent, broker and appraiser and also worked at Hubert's firm before she and Aymar began Manning Properties together in 1972.
Manning Properties has seen its own business transform, just as the family has watched the entire area grow and change. The first Manning Properties office space was above where The Local restaurant stands now. During their first year of business, the Mannings hired Margaret Barnett, who is still with the firm to this day. In 1982 the growing firm moved into their current location, which used to be the old Channel Furniture store, a space they completely remodeled. In the beginning, the company started with appraisals, then moved into commercial leasing, brokerage, property management, sales and leasing, as the Mannings' expertise and reputation grew.
As the business expanded, both Aymar and Judy continued to increase their professional abilities to match. In 1990 Aymar received the arduous and prestigious MAI (Member Appraisal Institute) certification, making him one a select group of certificate holders in the country. The exclusive designation is recognized by courts of law, governmental agencies, financial institutions and investors as the symbol of excellence in the field of real estate valuation and analysis.
Judy, meanwhile, continued her work as a realtor, broker and appraiser, while increasing her involvement in civic causes. In 1997 she ran for and won her seat as State Representative for District 32 in Cobb County, one that she held for 16 years.
In 2013 Judy and Aymar's daughter Elizabeth, who became a real estate professional in 2006, took on a more prominent role in Manning Properties when she became General Manager and in charge of leasing, sales and property management. Elizabeth has grown up in her parents' business—quite literally—and is excited to carry on and expand her parents' vision.
Aymar and Judy's son, Hank, has been in the family business since he was old enough to drive. Previously a broker at Manning Properties and member of the Cobb County Realtors' Million Dollar Club, he has gone on to full-time appraisals, opening Manning Appraisal Services in 2013.
Forty years and a second generation of family ownership and operation later, Manning Properties is happy to cover the entire state of Georgia with its expansive commercial property services, while still serving and investing in the home community that built it.